Forgotten Superfoods: Homemade Bone Broth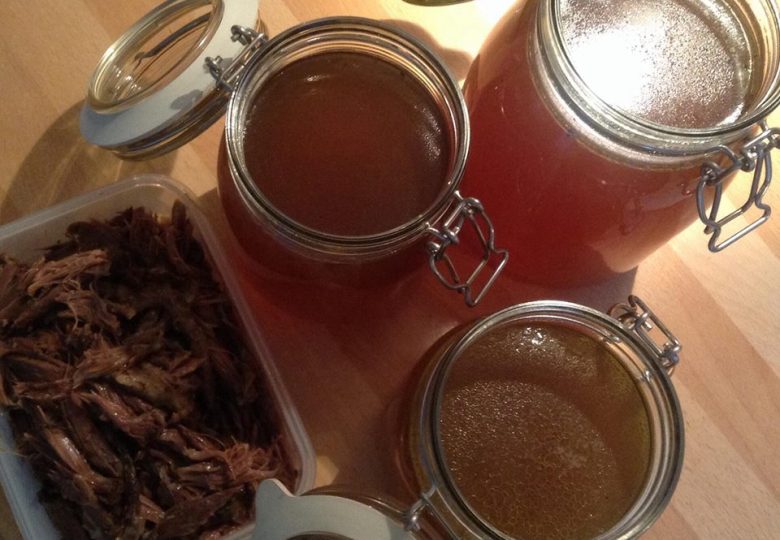 Even though there is no "one-size-fits-all", and NO food is good for EVERYone, home-made, long & slow-cooked bone broth is one of THE forgotten superfoods.
Contains gut-healing gelatin (if prepared from gelatin containing bones, like joints, knuckles, neck…). An intact gut lining is utmost important to prevent "leaky" gut and as such essential for a strong immune system, reducing the risk for all kinds of allergies, food intolerances, auto-immune or degenerative diseases (for more tips on how to boost your immune system click here). Gelatin is also good for joints, skin and hair.
Contains healthy fats (especially if made from beef marrow bones), which aid digestion and seal/heal the gut
Nourishes our joints due to gelatin, chondroitine and glucosamine
Contains anti-inflammatory amino-acids (arginine, glycine, proline) that nourish the adrenal glands
Contains important minerals, such as easily absorbable calcium and magnesium.
Calms and warms the belly (and the soul) especially on chilly winter days.
It might NOT be for you if you are histamine intolerant!
Ingredients
for a 8 l pot
Bones from free-range, pasture-fed animals
For chicken, either use a whole chicken (use the breasts for something else), or several chicken legs or chicken drumsticks (you can also use duck legs).
For beef: 1 kg of beef marrow bones (those won't gel) plus a piece of ox tail (for gelatin) or soup meat (meat with bone – this adds colour and flavour to the soup) – the more bones, the more nutrients and the higher the chance your broth will gel (if your broth doesn't gel, you can always add some extra gelatin in powder, i.e. Great Lakes gelatin available at www.ergomax.nl).
Or a mix, for example a chicken plus 2-3 beef bones
Vegetables:
2-3 carrots,
1 leek
1/2 celeriac (or a few stalks of green celery)
Other vegetable scraps (like cauliflower leaves, stems of spinach, broccoli or kale…)
1 onion
2 teeth of garlic
Condiments:
1 bay leaf
Some crushed pepper grains
Highest quality sea salt or Himalaya salt (I add that afterwards, since I like to cook grains/pulses in broth and the salt may inhibit them from getting soft)
50ml of apple cidre vinegar or a glass of white wine
Herbs (e.g. thyme, rosemary…), ideally fresh
Optional:
Some egg shells (for extra calcium)
A bit of seaweed (for extra iodine)
A fresh or dried chili (for extra spice)
Some fresh ginger
Filtered cold water to cover everything (I usually add about 5-6 liters)
Instructions
(all pictures courtesy of Willem Jansen)
Soak the bones in cold water plus the vinegar or white wine for 30min.
Add the meat, bring to a boil and skim off any foam.
Add all other ingredients.
Put the lid on partially (leaving some space for the steam to escape), lower the temperature so that the liquid is only simmering and leave for 6-24 hours (the longer the more nutrients, but also the more histamine). The liquid will reduce significantly, which gives a concentrated stock (this is great for freezing, since it takes up less space). You can later dilute it with fresh water if needed.
After about half the cooking time, take out the green veggies (leeks, green celery), because they tend to get too bitter.
Filter out the liquid (best in preservation jars) and let cool down.
Use for drinking pure or as basis for soup or sauces. You can also cook your (well-prepared) grains or pulses in it to improve their digestibility.
Peel off any meat from the bones and use it in soups or salads. Freeze what you do not need within the next few days.
Freeze big bones and reuse next time (I re-use them up to 3 times, depending on their size).
Optionally add in extra gelatin/collagen powder.
Enjoy!