Personal Consultation
Straight-to-the-point advice taking into account your astro-metabolic profile
Do you have a specific physical or psychological issue with health, fertility, food, body or sexuality that you would like me to give you some concrete, straight-to-the-point, personalized advice on?
Or would you simply like to have a first conversation before deciding whether or not to take your Astro-Metabolic Profile (recommended!)?
In 30-60 min I will give you some light when it comes to:
what your issue is here to teach you both on a physical and on a soul level
what you can do in terms of food, lifestyle, mindset and/or behavior to improve your situation
In order to do so, I draw on my unique toolbox of skills in:
Understanding the symbolism and soul messages hidden in symptoms and life events
Understanding the needs and challenges of different metabolic types when it comes to food, lifestyle and mindset
How metabolism and symptoms connect to astrologic signs, the chakras and Chinese Medicine
Option 1: 1 hour session based on your Astro-Metabolic Profile
A questionnaire which I will analyze before the session – first session only
A (virtual) consultation of 60 min (recorded)
The calculation of your Astro-Metabolic base profile (visual graph) prior to the session (note that this is a condensed version of the complete Astro-Metabolic Profile which would include much more in depth analysis and a detailed report) – first session only and only if full birth info available (date, time, place)
My preparation time (calculating and analyzing your profile, looking into the symbolism of your issue…)
A follow-up email with your recording, your charts and concrete product links in the case I recommend you supplements
Investment:

First session: 99 Euro (because of the extra time to calculate and study your profile)
Follow-Up sessions (or first session without astro-profile): 66 Euro per 60min (or less if you book several sessions per month, see below)
Option 2: Instantaneous advice by the minute
Are you in a crisis? Do you need to understand a symptom or something that happened immediately? Are you shopping food and have a doubt about a product? Then let's schedule a short-notice call via whatsapp (minimum 15 min) to help you calm down, gain clarity and tune into what is the most loving way to move forward under the given circumstances.
A call via whatsapp
Investment: 33 Euro per 30min or price per minute (see list below)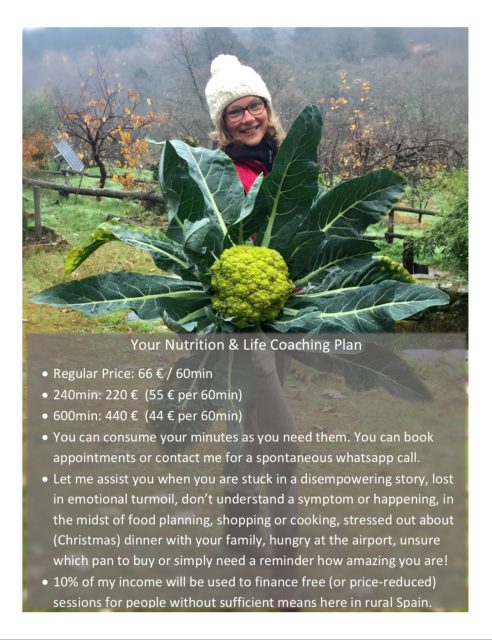 Vives en la Sierra de Gata? Contáctame para consultar condiciones locales
What clients are saying who received this service:
"The introduction of my astro-metabolic profile during a first 1 hour personal consultation with Claudia has been deeply enlightening. It encouraged me to follow my intuitive food needs and continue the process that I already started. It also helped me understand my essential nourishment needs, and why I had some recurring symptoms (that are actually normal for my profile). Beautiful initiation to trust my body wisdom. Thank you, Claudia ! Gaia"
"Claudia is phenomenal! She does things with passion. A wealth of information. I would recommend her to anyone trying to improve their health and wellbeing." E.
To book your session, please fill in the form below and I get back to you with payment instructions and an appointment proposal.