Regenerate Online
Eat and live the fertile way to regenerate your body and soul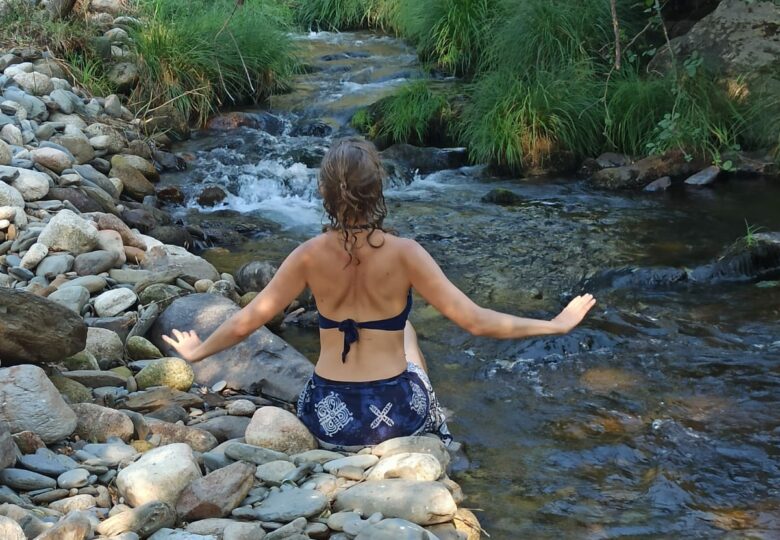 ¿Are your batteries low?
¿Your body is talking to you, but you don't understand what your symptoms are trying to tell you?
¿You are eating « well », but still you feel that something is off in your diet?
¿You feel disconnected from your body, heart or Life energy?
It's time to REGENERATE yourself in body and soul. It's time to eat and live the Fertile Way.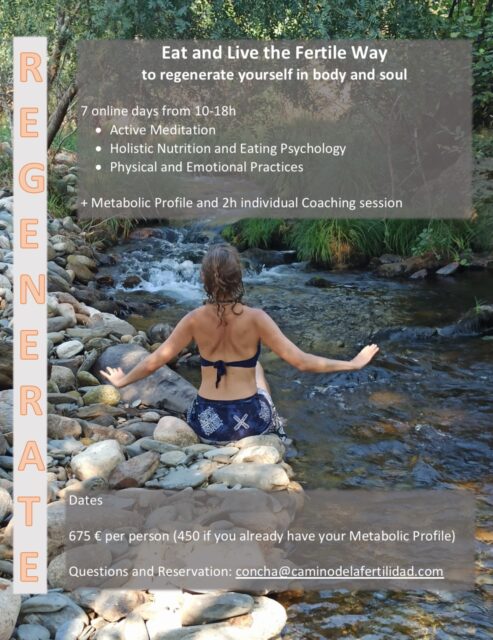 This Online Camino is directed at women and men who desire:
Better understand their individual metabolism and what kind of diet / lifestyle it needs.
Understand the secret language of their symptoms to find the hidden treasures in them and transform them at their root.
Reconnect with their Being and most authentic inner truth.
Recharge their batteries and rediscover the joy of living.
Topics we will address in theory and practice*:
What is regenerative nutrition, how it differs from sustainable and organic nutrition, and why we and the planet need it desperately.
Why there is no one way to eat well and what is the best way for you and your individual metabolism.
How to select foods that are truly good for you, the farmers, the animas and the planet and how to create balanced meals with them.
Cooking that is healthy and tasty, easy and efficient.
Eat with consciousness and presence.
The role of hormones for your health and well-being and how to balance them.
Discover the messages behind your unwanted symptoms and habits in 4 steps.
Scarcity mindset vs. fertile mindset.
What is active meditation and how does it differ from classical meditation.
Reconcile body, heart and mind and connect to the present moment.
Move stuck energies and create space for something new.
Awaken the inner observer and your sensual awareness.
Find your inner anchor.
Express your emotions in a constructive and non-violent way.
Discern and affirm your desires and .boundaries
Forgive yourself and others.
Change the story you are telling yourself when it comes to your life and your symptoms, so they empower instead of disempower you.
The Chakras and how to balance them through food and physical practices.
Masculine and Feminine energies, the dynamics between them and how they influence the relationship with our body, food, sexuality and Life in general.
* some in more detail, others in an introductory way
Practical Information
7 online Sundays from 10-18h (1 per month during 7 months)
Dates: there are no dates for the moment being
For some of the exercises you would ideally have a partner in the same space with you (not just online). It would thus be of benefit to take this course together with a friend. Apart from the partner exercises, this also allows you to share and potentiate the individual exercises, the fun of cooking etc. If you really cannot find a partner, I can adjust the respective exercises so you can take them by yourself.
At lunchtime we will cook together. I will share the menu of the respective month a week before, so you can shop for the ingredients on time.
Before the group process starts, you  you will have an individual session to know each other, determine your individual metabolic profile and understand your particular situation and needs.
What you need: good online connection, audio and video connection via your laptop (to use zoom), comfortable clothes, and ideally a partner.
Investment: 675 Euro per person. If you already have worked with me in the past and we both know your Metabolic Profile, the investment reduces to 450 Euro per person for the 7 days.
Minimum group size: 5 persons
Course language: English
Questions and reservations: concha@caminodelafertilidad.com